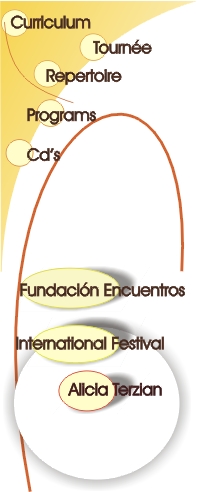 Grupo Encuentros
The GRUPO ENCUENTROS was created by its conductor, the composer Alicia Terzian in 1979 in order to achieve the diffusion – in Argentina and abroad - of avant-gardist Argentine and Latin American composers as well as from other countries.
It is the official group of the International Encounters for Contemporary Music Foundation.
The GRUPO ENCUENTROS has commissioned a great number of works to the most important composers from Argentina and abroad, performing them in their international tournées of concerts since 1979. They have given concerts in all Europe (including the ex USSR) in 1980, 1983, 1985, 1987, 1988, 1989, 1992 (2 tournées), 1994, 1997. They toured USA in 1983 as well as in 1990 from Los Angeles to New York. They made presentations in China (Beijing, Shanghai, and Hangzou) in 1988 invited by the Chinese Ministry of Culture as well as inMéxico and Ecuador in 1988, Brazil in 1982 and 1996, Uruguay in 1991, Colombia in 1993, and many countries of the Far East in 1995.
The GRUPO ENCUENTROS is the only permanent group of Latin America and one of the few in the world that have accomplished international regular tournées.
They have recorded 3 CD's with works of the following Argentine composers: Carlos Guastavino, Alberto Ginastera, Luis Naón, Alicia Terzian, Salvador Ranieri, Marcelo Koc, Irma Urteaga, José Luis Campana, as well as Cuban Leo Brouwer, Brazilian Heitor Villa Lobos, Bolivian Edgar Alandia. The French company DOM Disques (Paris) edited 2 CD's devoted to the tango: Tangos y algo más (Tangos and something more) and Encuentros... con el tango (Encounters.... with the tango).
The soloists of the group are: Marta Blanco (mezzo), Gabriel Sorin (flute), Eduardo Ihidoype (clarinet), Sergio Polizzi (violin), Carlos Nozzi (cello), Claudio Espector (piano). For the tango programmes, Daniel Binelli is the guest bandoneonist.
The GRUPO ENCUENTROS has given concerts at the most important international festivals: Radio France, Gulbenkian Foundation (Lisbon and Paris), Lille and Orleans Festivals, Antidogma Musica of Torino, Nuova Consonanza of Rome, Royal Festival Hall of London, Merkin Hall of New York, Chamber Theatre of Stuttgart, Diorama of Suisse-Romande Radio, Bossendorfer Concert Hall (Paris), Días de Música Contemporánea of Radio España, Concert Hall of the UNESCO (Paris),Monday Evening Concerts of Los Angeles, San Francisco Contemporary Music Players, Neue Musik of Austrian Radio, Spring of Prague Festival, Biennial of Zagreb, Midem Classique of Cannes, RTB Radio and Royal Conservatory of Brussels, Gaudeamus Foundation of Holland, Stedelejk Museum of Amsterdam, Gomidas Hall of Erevan, in Montrèal, Toronto, Río de Janeiro, Sao Paulo, Quito, México, Santiago de Chile, Pittsburg, Syracuse, Boulder, Greeley, San José, Porto, Yverdon, Bolzano, Trento, Rovereto, Calgliari, Rotterdam, Utrecht, The Haye, Danmarks Radio, Maastricht, National Auditorium of Madrid, Irún, Gèneve, Bogotá, Radio and German radios of Köln, Frankfurt, Stuttgart, as well as the BBC in England, RAI Radio in Torino and Rome, Soviet Union Television, etc.
Marta Blanco
Argentine mezzosoprano awarded with 5 Argentine prizes of chamber music and opera, she was finalist at the 1985 Pavarotti International Contest. She studied with the Welsh soprano E. Harry and Gina Cigna as well as the Swiss tenor Ernst Haefliger.

She develops and intense activity as chamber singer of the baroque, classical and romantic repertoire. In opera, she has excelled in: Madame Butterfly, Carmen, El Cónsul, Flauta Mágica, Dido and Eneas, Rigoletto, Cavalleria Rusticana, Ariadna in Naxos, El caso Makropoulos, La Medium, Sour Angelica, El Caballero de la Rosa, etc, performed at the Colon Theatre of Buenos Aires, the interior of the country as well as abroad.
As the soloist of the GRUPO ENCUENTROS, she has realized 20 international tournées, specialized in the interpretation of avant-garde singing.
Since 1991 she has been teacher of singing at the National Conservatory of Music "Carlos López Buchardo" of Buenos Aires.
Reviews
Succesful 2004 European Tournée of the Grupo Encuentros and Alicia Terzian
The GRUPO ENCUENTROS integrated by Marta Blanco, Claudio Espector, Fabio Mazzitelli, Eduardo Ihidoype, Sergio Polizzi and Carlos Nozzi, conducted by Alicia Terzian realized their 26th international tournée of concerts in many European cities. The concerts were held in Festivals organized in Lausanne, La Chaux-de Fonds, Milan, Thonon-les-Bains, Salzburg, Luzern, Eindhoven and Warsaw.
The programme was fully devoted to Borges and the music of Buenos Aires as an hommage to the great Argentine poet. It included 12 poems written by Borges and musical works by Guillermo Graetzer, Juan José Castro, Irma Urteaga, Alejandro Iglesias Rossi, Alicia Terzian, Jukka Tiennsuu, Alberto Ginastera, Astor Piazzolla and Daniel Binelli.
In every European city, the poems were read in the language of the country by outstanding native actors.
An enthusiastic and numerous audience applauded every presentation of the Grupo Encuentros and the newspapers of every city: Milan, Salzburg, Luzern, Eindhoven, Lausanne, La Chaux-de-Fonds, Warsaw, enhanced the ensemble presentations both by means of previous announcements and after by reviews, qualifying them , for instance, as "memorable concert, with poems by the great Borges and musical works of positive quality and modern language".
All the newspapers stressed unanimously on "the passionate interpretations in charge of instrumentalists, singer and conductor in a trascendental musical and poetic trip"
The newspaper Corriere della Sera (Italy) added emphatically in its commentaries: "Jorge Luis Borges and Buenos Aires, two faces of the same coin, one the mirror of the other. A poet and his city, crossing roads of cultures as an open wound that has inspired poetry and music".
Swiss newspapers appraised the programme with a half page article reminding the importance of the great Argentine poet and the music programmed as a mirror of his poetry. Reviewer Matthieu Chenal closed his article pointing out: "The great lady of the Argentine music of Latin America will pass through Lausanne with the Grupo Encuentros, excellent ensemble of variable geometry which she founded in 1978 and since then fulfills the whole world with its music"
---

The recognition is for Alicia Terzian who prepared the works with responsibility and conducted the Grupo Encuentro accurately, achieving a perfect performance. W. Müller-Grimmel – Stuttgart Zeitung
Alicia Terzian is a lively example of the contemporary music both in her country and Europe, and conducts the Grupo Encuentros with great attention. J. Siskin –The Citizen, Ottawa, Canada
'Shantiniketan' is a kind of ceremony in which the audience is involved and linked to the dialogue of the flute, lights, movements, sound and ethereal choreography. L. F. – Paese Sera, Roma
The six musicians of the Grupo Encuentros performed under the watchful conducting of the composer Alicia Terzian. Eric McRean – Gazzette, Canada
Alicia Terzian dirige ce grouppe avec une energie discrete, un talent et une conviction omniprésents. Elle en est l'âme et l'alma mater et cela n'a pas besoin de s'afficher pour être. L. F. – La Republique du Centre, Canada
Alicia Terzian and her Grupo Encuentros offered six intense pieces full of drama and energy. Los Angeles Times, John Henken
Alicia Terzian charmed the audience with her brilliant performance. La Suisse, Gèneve, Switzerland
The Argentine contemporary music finds in Alicia Terzian a great encouraging figure, the Latin equivalent to our Diego Mason or Paul Mefano. Her concert was one of the most captivating examples of the Festival. Leading her group, Alicia Terzian conducts watchfully, accurately and tirelessly. M.M. – Orlèans, France
The vivacity of the Argentine contemporary music was expressed by the Grupo Encuentros conducted with accuracy and musicality by Alicia Terzian. They proved to be a perfectly involved and virtuoso group in the accomplishment of a task that is never routinary. Le Journal de Gèneve – A. Wyss